Making an Impact
United Way goes beyond temporary fixes to create lasting change in communities around the world. By bringing people and organizations together around innovative solutions, together we make a difference in our local community. 
United Way isn't about short-term charity, it's about lasting change. We look at the big picture: what resources are lacking – down to food, shelter and health needs – and how we can address that to keep kids on track to graduate and families in their homes.
Your United Way is independent and volunteer-led. The volunteer leadership represents strong ties to the community providing a balance to our work and helping improve the efforts to make an impact. With their guidance, more people are able to get the help they need.
In January 2021, United Way of Greater Baytown Area & Chambers County celebrated its 75th anniversary. From humble begins, a strong foundation was built to last. More than 88 million dollars has been invested in programs and services during that time. Today, more individuals are volunteering, from disaster response to grant reviews.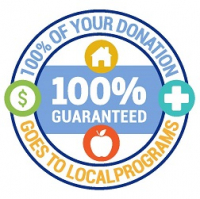 United Way of Greater Baytown Area & Chambers County is supported by corporate partners who contribute funds to support day to day operations. This means there are no admin fees - your gift is used to support needed local programs. With their ongoing support and the strong volunteer leadership, your gift is well invested in needed programs. No funds are given to individuals. All funds are tracked to show measurable outcomes and positive impacts.
Community Impact grants are made available because of your generosity, and volunteers who carefully review requests for funding. Click here to view the funding process. The grant cycle begins in late fall and the program funding announcement is made in June. The agencies that have received program funding are required to submit quarterly reports that are also carefully monitored.  Click here to review a list of agency programs that are currently funded.
Report to the Community: FY23 Mid Year Report to Donors
The Board has been working on Impact 2025, the forward-thinking, community-minded strategic plan. The plan includes the funding goals, centered on four focus areas: Education, Financial Stability, Health, and newly added this year, Basic Needs. Click here to learn more about the focus areas.
In addition to funding needed local programs, your United Way has been supporting disaster response. Following Hurricane Harvey, UWGBACC began a long-term recovery program (BACC DR). Nearly 90 homes were rebuilt, with a majority of these in Chambers County. In response to the COVID 19 Pandemic, funding was provided to local agencies providing critical services, such as rent, utilities, food, childcare and prescriptions. In January, 2023 BACC DR was re mobilized to respond to a tornado that damaged several homes in the Baytown area. To learn more about this response, click here.
UWGBACC is here year round to help our community.